Play the Yacht Game for Free
Yacht Game is an online offering of the popular yacht game which is similar to cheerio, generala, poker dice, yatzy and Yahtzee.


Please click the roll button to start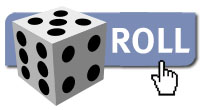 0
Dice Rolls This Turn
1
Game Progress
Today's Highest Scores
There are no high scores today. How well can you do?
You
Opponent

-

-

-

-

-

-

Three of each bonus

-

3 Kind

-

4 Kind

-

Small Straight

-

Big Straight

-

Full House

-

Yacht

-

Chance

-